A brief history of the Z Zurich Foundation
As the Z Zurich Foundation turns 50, let's look back at how we got to where we are today and some of the projects that have defined our mission. A lot can change in half a century.
Since our creation, we've transformed from a local philanthropic charity to a global foundation, from funding a single professorship to advising communities on flood resilience.

Today, we are on a mission to create positive change across the world, impacting nearly 11 million people through projects in over 50 countries.

Wondering how we got here? Well, let's go all the way back to 1973...
1973 - 2008: How it all began
The Zurich Jubilee Foundation was established by various members of the Zurich Insurance Group (Zurich) in 1973. Zurich was no stranger to philanthropy – it had donated to support flood victims in Germany and create cultural monuments as early as 1897 – but this was the first time that the company had formalized its charitable work.

Excerpt from the minutes of the Committee of the Zurich Board of Directors, May 13, 1897
Our founding document laid out a vision which continues to guide us today:
"The purpose of the Foundation shall be to provide financial support to and otherwise promote non-profit efforts of all types throughout Switzerland, specifically in the areas of science and the arts; education; recreation and health; environmental protection; assistance to persons in need; and aid to elderly, sick and disabled individuals."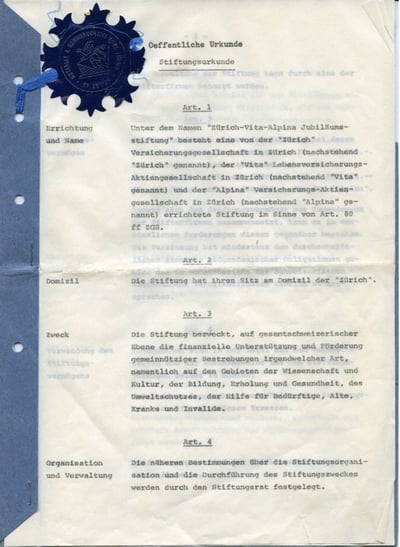 Charter establishing the 'Zurich-Vita-Alpina Jubilee Foundation,' 1973
In the early years, donations went primarily to small, local projects in Switzerland. However, once Zurich directors realized the tangible difference the Foundation could make to society at large, the organization was restructured to maximize its impact.

This continued until 2008, when the first full-time employee was appointed to run the organization along with vastly expanded resources and support from Zurich. Equally as notable was the rebranding of the organization to 'The Z Zurich Foundation', adding an extra "Z" to distinguish the name from that of our eponymous Swiss canton. These changes were the beginnings of the transformation towards the organization that we recognize today.

2008 – 2015: Expanding our mission
With a bigger budget came bigger ambitions and we started looking beyond Switzerland to have an impact on a global level.

This was soon put into action, signing collaborations with three internationally recognized NGOs: Practical Action, Rainforest Alliance, and the International Federation of Red Cross and Red Crescent Societies (IFRC).

The keyword here is collaboration. We not only contributed financial support to these projects but applied Zurich Insurance Group's practical expertise in risk management. Alongside the IFRC and Practical Action, for example, we helped vulnerable communities strengthen their resilience to risks such as flooding and other climate disasters. This was a sign of things to come.

Looking to scale up our impact even further, in 2011 Zurich increased its financial support once again. With these new resources, we could play an even more active role in building disaster resilience.

It was time to build a task force.

Building on our blossoming collaborations with the IFRC and Practical Action, we launched the Zurich Flood Resilience Alliance (the Alliance) in 2013.

This program took a far more holistic approach to flood resilience than anything we had done before. It involved:

Investing in local flood adaptation projects on the ground in flood-risk areas, anything from early warning systems in Peru to planting soil-strengthening vegetation in Bangladesh.
Enlisting Zurich employees who volunteered to help supporting projects. They work alongside partners, sharing their time and expertise.
Leveraging the experience of Zurich's in risk-management to advise project partners and attract government and NGO funding.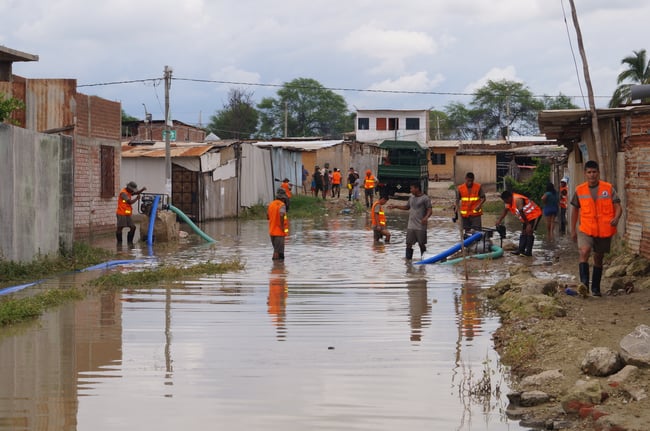 Brigades and armed forces in Piura, Polvorines

2015 – 2023: Expanding, leading, thriving
Our impact has expanded in other areas too.

We took the step of integrating the organization of volunteer work into the work of the Foundation. It's a move that has helped Zurich employees to feel empowered to make a difference in whatever way they can to the causes that matter to them.

Over the past eight years, we have also ramped up our efforts to address mental wellbeing and social equity challenges, funding a diverse array of projects at the local, national and even international levels.

Initiatives have ranged from employability skills in South Africa to mental health support for vulnerable young people in Portugal.

One of the programs we're most proud of is the Tackle Your Feelings initiative in Ireland, encouraging young people to talk about and confront mental health issues by engaging well-known rugby players to openly talk about theirs. It's been running since 2015 and has now been replicated in Australia.

Based on this success we formalized our work across the three pillars, and in 2020 reinforced our focus on adapting to climate change, improving mental wellbeing and enabling social equity.

Part of this renewed focus included applying our expertise to help the world respond to international crises.

In 2020, we stepped in to help reduce the impact of the COVID-19 pandemic. During this period, we donated to 220 charities across 35 countries as well as supporting UNICEF's effort to deliver 2.5 million vaccine doses to vulnerable people worldwide the following year.
Last year, we funded humanitarian aid efforts for victims of the war in Ukraine and supported refugees hosted by Zurich colleagues in 16 countries.

By the end of 2021, the Flood Resilience Alliance had also impacted over 600,000 people and helped bring in over $420 million in funding for flood resilience. We were also present at COP 27 in Sharm El-Sheikh, the landmark UN Conference that recognized and encouraged more investment into climate adaptation and led to the establishment of the Santiago Network – a group designed to pool expertise on flood and climate disaster resilience. It also continues to support communities across the world, from South America to South Asia.

In the last few years our response to assist vulnerable people affected by natural hazards has also increased. We make one-off donations to local charities to help relief efforts, support and match fundraising campaigns launched by Zurich colleagues, and encourage volunteering wherever possible.

In just a few decades, the Z Zurich Foundation has shifted from a local charity into a globally recognized organization, impacting the lives of nearly 11 million people along the way. But we couldn't have done it alone. We cannot overstate the impact that our team, charitable organizations we work with, and global network have had on the first 50 years of our story, and we are extremely grateful.

Here's to the next 50!