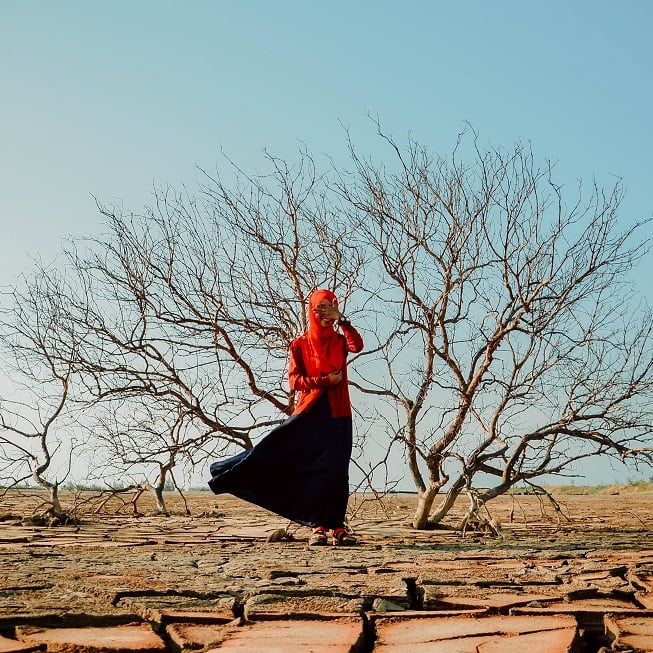 Impact in 2021
We are at the heart of Zurich Insurance Group's (Zurich) ambition to be one of the most impactful and responsible businesses in the world.
Our impact in 2021
We work alongside Zurich employees and other stakeholders as well as with governments and NGOs in pursuit of a future where people can thrive in the face of increasing climate hazards, where those of us feeling the stresses of life are empowered to speak up, and where the marginalized in our society can reach their full potential.
We believe the key to creating a fairer, more open and sustainable society is by forging connections. Our work aligns with the UN Sustainable Development goals (SDGs) and especially: SDGs 3, 4, 8, 11 and 13.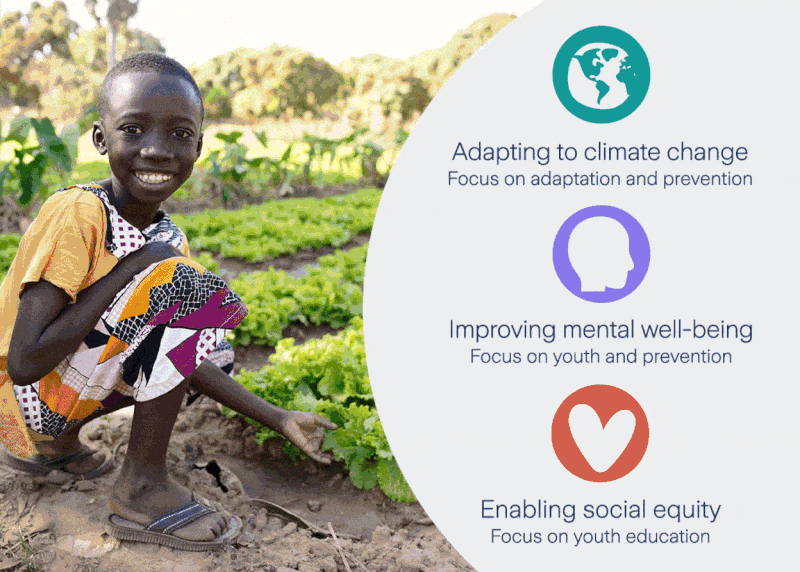 On our way to deliver on our 5-years strategic goals
By 2024, we aim to:
Create transformative change in the lives of more than one million vulnerable people and positively impact the lives of 10 million others. At the end of 2021, we are about almost a year ahead to reach these targets

Have more than 50 percent of Zurich employees actively engaged in community programs and activities. In 2021, the level of volunteering was 56 percent.
Have 100 percent of Zurich employees feeling proud of the work of the Z Zurich Foundation. In 2021, the level of pride was equal to 95 percent.
Have more than 90 percent of the charities we work with see us as a more than a mere financial partner and recommend working with us.
We are confident with the effectiveness of our approach to deliver on this strategic cycle. We are developing stronger strategic partnerships to address challenges with a multi-year view to ensure long-term and sustainable outcomes for the most vulnerable.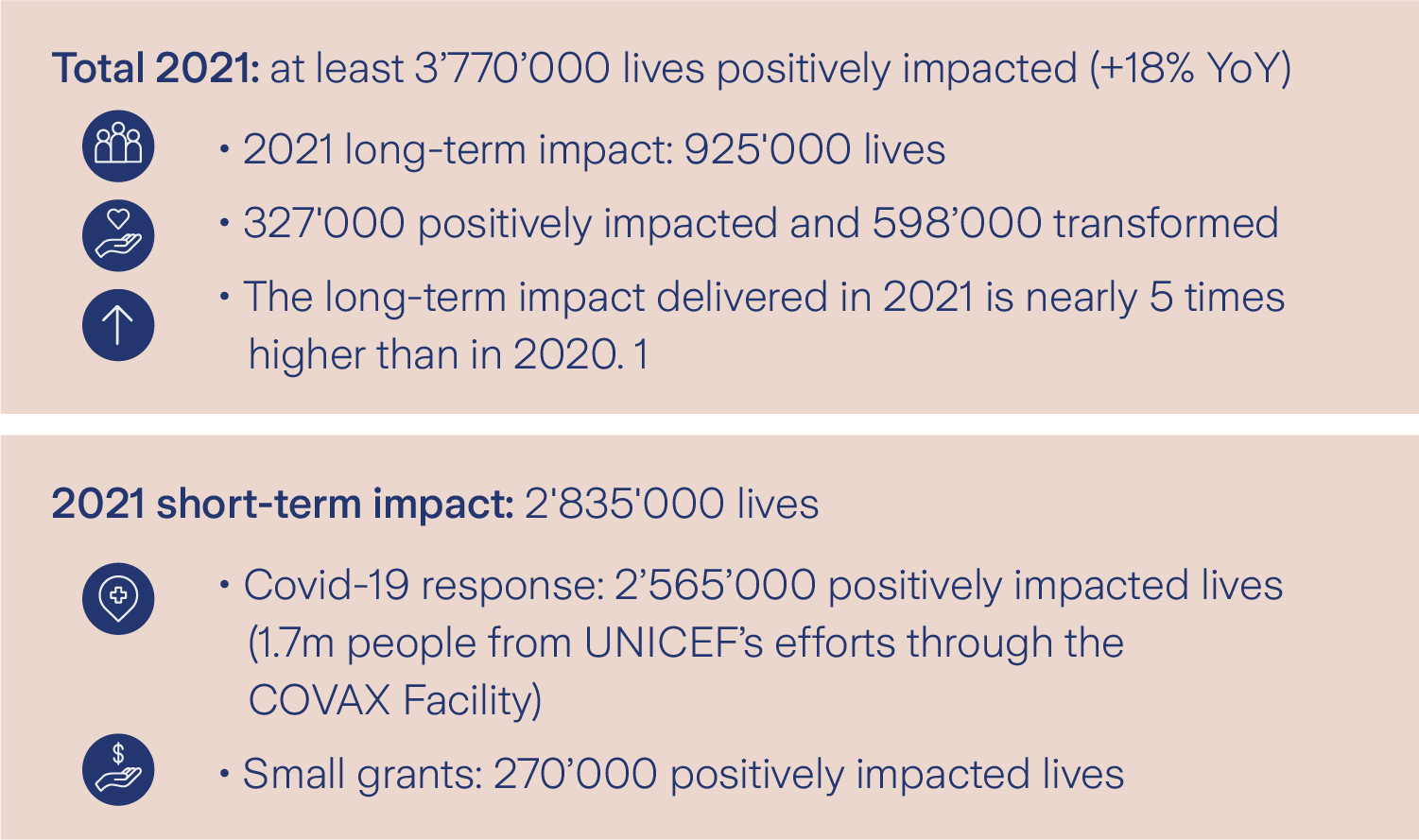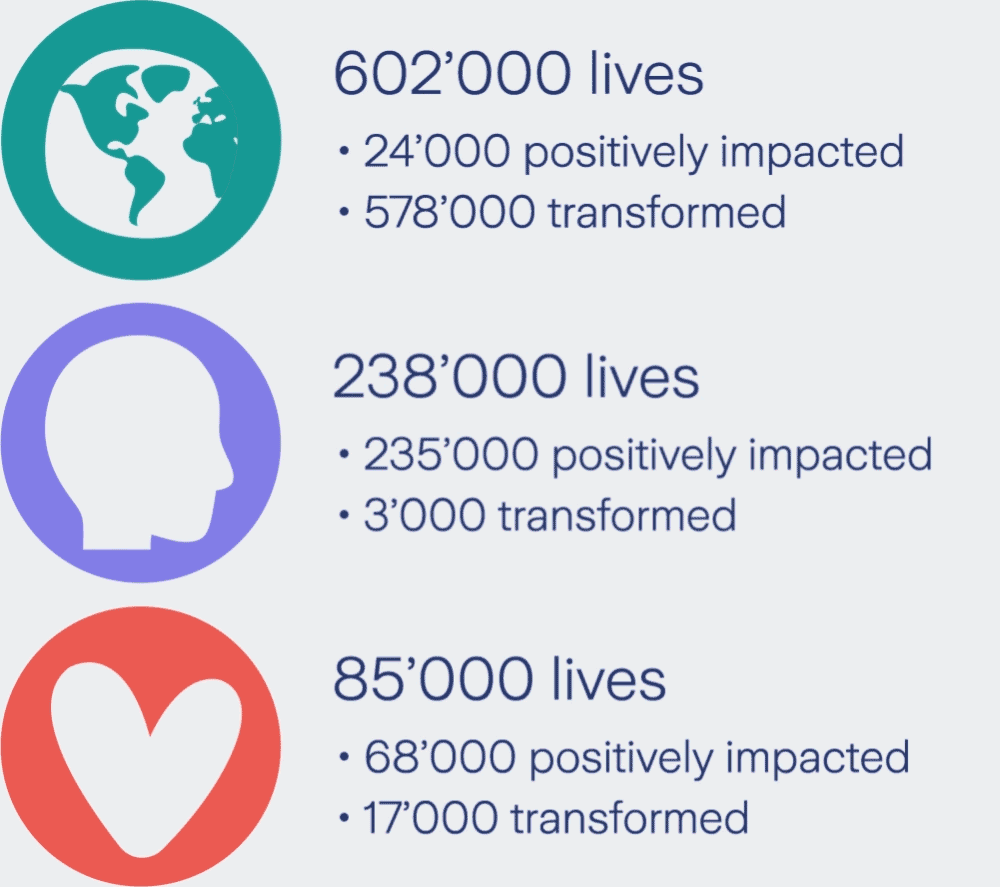 For each of our pillars, we have defined specific impact personas to clarify our definitions of "positively impacted" and "transformed." In a summary way:
A person has been "positively impacted" if we observe some substantive improvement in their lives as a result of the activity
A person is "transformed" if we observe an enduring change in their circumstances as a result of the intervention
Dedicated support when crisis hit

In 2021, the challenges of the COVID-19 pandemic remained critical. We have continued to support the most vulnerable by providing tailored grants to support local disaster relief initiatives identified by Zurich's business units.
While the pandemic's long-term impacts are hard to foresee, the economic downturn in 2020 had severe repercussions on women, youth, the poor, the informally employed, and those who work in low-income sectors. With the partial recovery in 2021, we saw new needs emerging, such as vaccination equity. In April 2021, we committed to support UNICEF's efforts to deliver COVID-19 vaccine doses to the most vulnerable. Zurich's offices, employees, customers and distributors joined the race to end the pandemic and participated in the biggest fundraising campaign driven by the Foundation since its establishment in 1973. The campaign raised enough funds for UNICEF to deliver two doses of COVID-19 vaccine to more than 1.7 million people.
Increased levels of support to humanitarian relief efforts
To respond to an intense set of natural catastrophes which took place over the summer, the Foundation provided support to Germany, the Netherlands, Belgium, Greece, Spain, Algeria, Haiti, the U.S. and Canada. We have also seen incredible fundraising efforts from Zurich offices and employees to support relief efforts. In addition, we have also responded to the refugee crisis following the worsening situation in Afghanistan by donating to the emergency appeal of the International Rescue Committee, a leading charity supporting refugees, to help provide mental health and integration support as people look to the future.
"We thank Z Zurich Foundation and its global network for their generous contributions in support of global vaccine equity," said Carla Haddad Mardini, Director of UNICEF's Private Fundraising and Partnerships Division. "All sectors need to join hands to help end the COVID-19 pandemic. Because this will not be over for any of us, until it is over for all of us."
"There is a global movement to ensure everyone has a chance to be protected from COVID-19 and we applaud everyone who has been supporting it, through our own initiative or others. Every commitment counts to provide equitable access to vaccination," said Gregory Renand, Head of the Z Zurich Foundation. "The race is not over yet and 2022 will be an important year for the world to strengthen its resilience against COVID-19."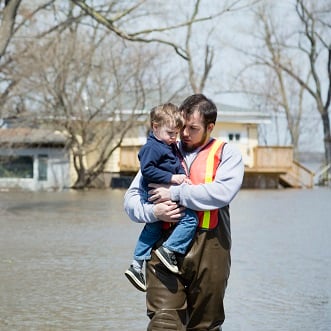 Impact built on strong foundations
We have been working on Climate Change Adaptation since our first collaboration with Zurich in 2013, when we jointly founded the Zurich Flood Resilience Alliance (the Alliance). This multi-sector global collaboration is focused on finding practical ways to help communities strengthen their resilience to floods. The Alliance approach not only works directly with communities, but also uses the community experience, and bespoke research, to advocate for changes at a system level.
During 2020, the Alliance was able to report having an initial impact with around 315,000 people – largely through the community-level program work. 2021 though, has seen a step-change in the impact that the Alliance is having with 24,000 people positively impacted through the community programs, and around 578,000 lives transformed largely through scaling.
It has been a long-term effort that has led to this significant jump in the numbers. For example, most of the transformed numbers come from work that is happening in Peru. Here we started to work in 2013 with the first phase of the flood resilience program.
By working in communities over the past eight years, testing ideas and building credibility for those solutions, Alliance partner Practical Action has been able to develop its relationships with the national government. This has resulted in the national weather service adopting their low-cost weather stations as part of a country-wide Early Warning System. The numbers represent the impact of that scaled operation.
It is this long-term foundation that will see increasing impact as the program progresses in the next 3 years. And in 2021 we added even more to that base by extending community work further. From around 75 communities in 2019, we have quadrupled that number to over 300 across more than 20 countries including in Africa for the first time.
At a global level, the evidence coming from the community work and our research continues to be used to encourage others to increase their funding commitments to adaptation/resilience building. In 2021, the Alliance influenced a further USD 74.4 million, taking the total influenced to date to USD 420.5 million (around 42% of the program target).
Scaling-up climate change
Gita is a 29-year-old woman living in Nangapur, a village in western Nepal close to the Karnali River. She is an entrepreneur, managing a small fast-food restaurant, a Community Disaster Management Committee member, active in the community's First Aid Task Force, and the mother of a small child. How has Gita's fast-food restaurant in Nepal enhanced her and her family's Flood Resilience?
Watch video on YouTube