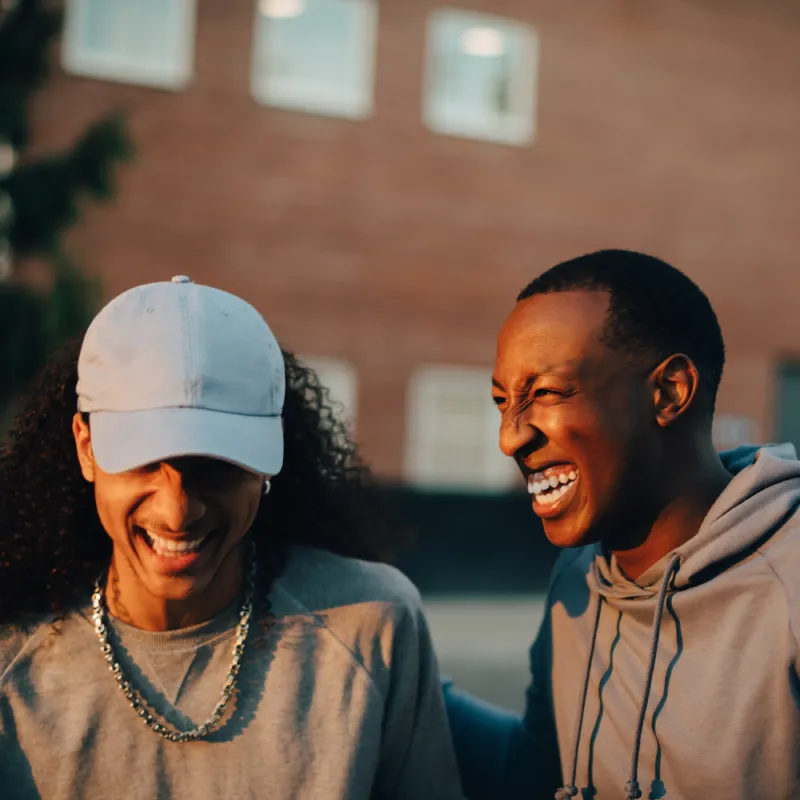 Impact in 2022
At the heart of Zurich's ambition to be one of the most impactful and responsible businesses in the world.
We use our strong expertise and infrastructure to create brighter futures for vulnerable people
Together with Zurich employees, stakeholders, governments and NGOs, we are working to:
help disadvantaged communities and people adapt to a changing climate,
build a global community dedicated to improving the mental wellbeing of young people
provide marginalized young people with the necessary skills and resources to reach their full potential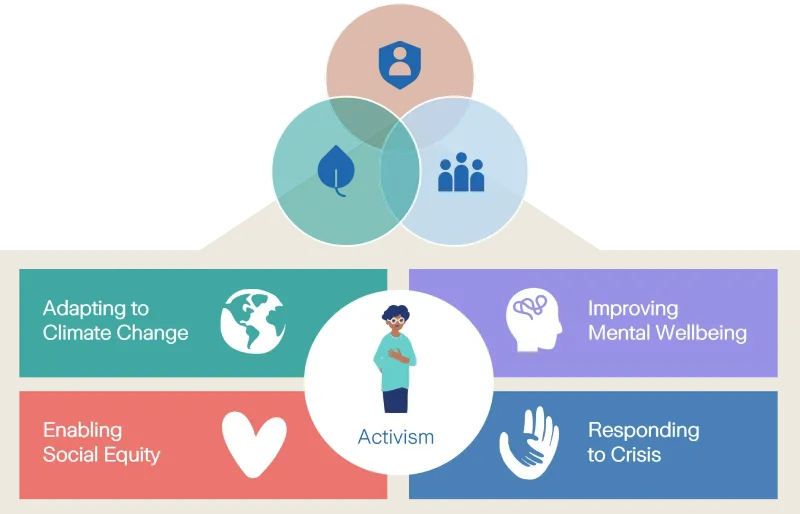 We believe in the power of forging connections – bringing people together is key to creating a fairer, more open and sustainable society.
Our work aligns with the UN Sustainable Development goals (SDGs), particularly SDGs 3, 4, 8, 11 and 13.

Global needs require global solutions
(Overview of our multi-year grants and collaborations at the end of 2022, including grants starting in early 2023)
At the end of 2022, we have about 90 community programs in over 50 countries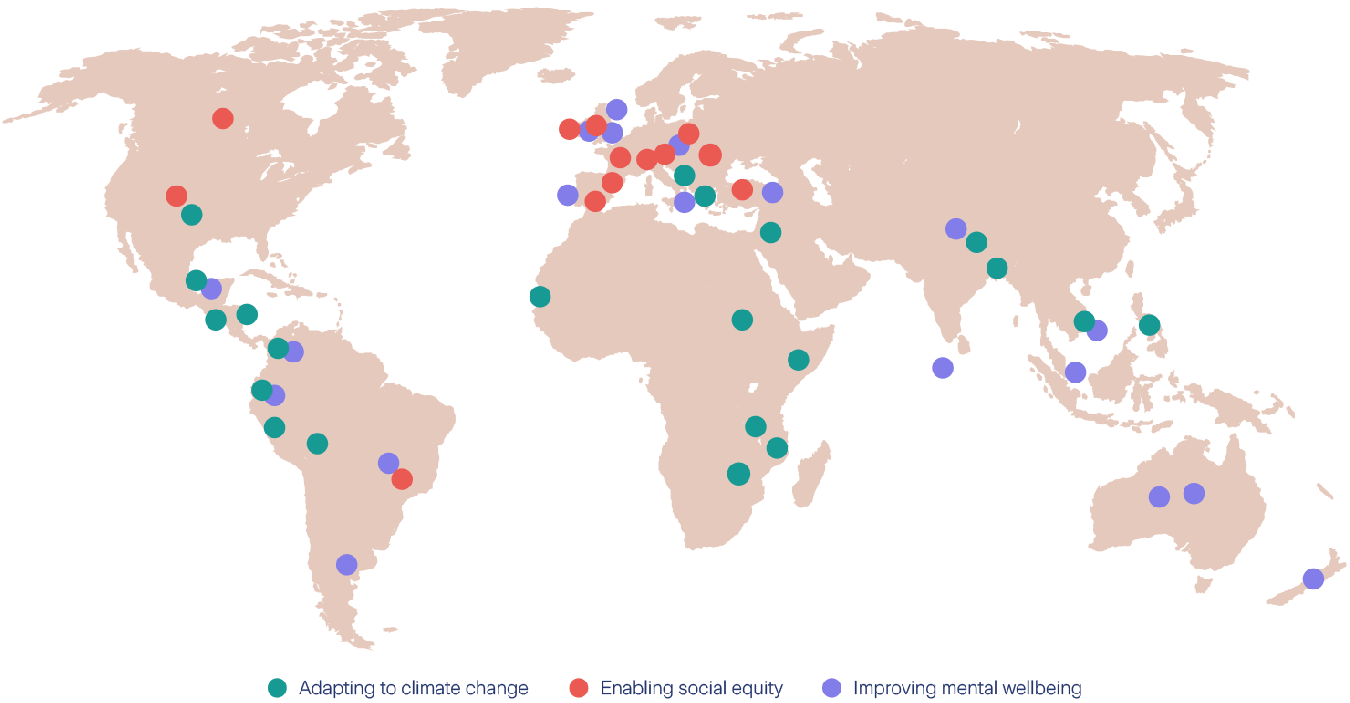 Approximately 1.5 years ahead of our five-year strategic target
Making headway in delivering on our five-year strategic goals
By 2024, we aim to:
Transform the lives of more than one million vulnerable people and positively impact the lives of 10 million others. At the close of 2022, we are nearly one and a half years ahead in reaching these targets.
Actively engage more than 50 percent of Zurich employees in community programs and activities. In 2022, the volunteering level was 55 percent.
Make 100 percent of Zurich employees proud of the Foundation's work. In 2022, the level of pride was equal to 94 percent.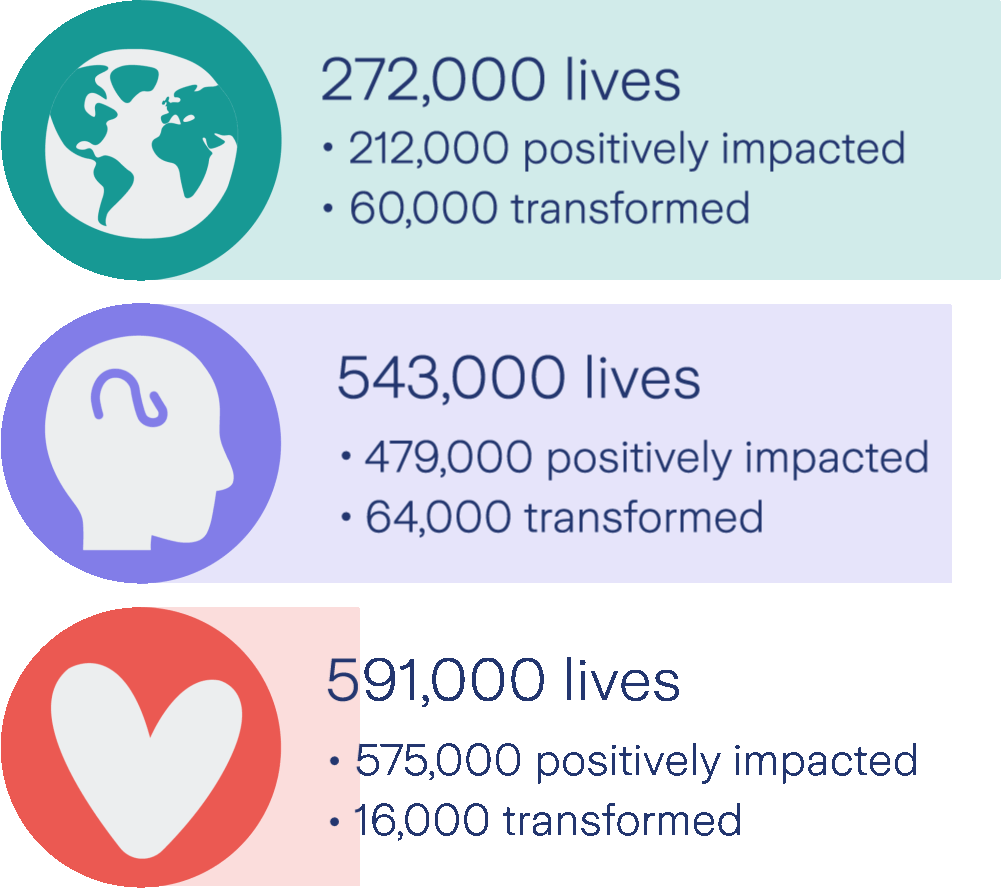 We are strengthening our strategic partnerships to address global challenges in a multi-year view to ensure long-term and sustainable outcomes for the most vulnerable
Progress against 5 years' impact on beneficiaries after 3 years

For each of our pillars, we have defined specific impact personas to clarify our definitions of "positively impacted" and "transformed." In a summary way:
A person has been "positively impacted" if we observe some substantive improvement in their lives as a result of the activity
A person is "transformed" if we observe an enduring change in their circumstances as a result of the intervention
Responding to crisis
Providing humanitarian aid to address significant environmental, health-related, or geopolitical crises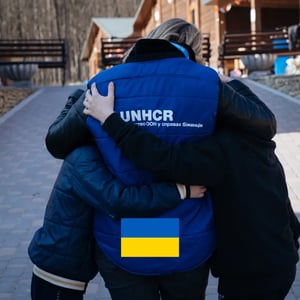 © UNHCR/Anton Fedorov
A multi approach response to support those affected by the war in Ukraine
We focus on prevention whenever possible, and recovery where not. In times of crisis, we provide timely assistance in collaboration with Zurich's offices, employees, and charitable organizations.
Within hours of the onset of the conflict in Ukraine in February 2022, we implemented several initiatives to address immediate needs, and then collaborated with several charities to address medium- and long-term needs, in line with our strategic pillars of mental wellbeing and social equity.
Examples of initiatives include:
Initial donation to United Nations High Commissioner for Refugees (UNHCR) to provide critical support to the emergency response in Ukraine, supporting refugees in Ukraine and neighbouring countries. UNHCR has been working with authorities, UN agencies, displaced community groups and other organizations to provide desperately needed humanitarian assistance to those affected by the war. Representatives also presented the behind-the-scenes of a humanitarian crisis and response to Zurich employees. Learn more about UNHCR's response here.
A global fundraising campaign, the largest in the Foundation's history at the time, to support the International Rescue Committee, International Committee of the Red Cross and Save the Children. Within four weeks, we raised a record amount of funding (including our matching) to support 200,000 people.
Hundreds of donations to smaller local and international organizations to support immediate emergency efforts and provided financial resources to specific NGOs in Slovakia, Poland, Moldova, Romania, Hungary, and western Ukraine to provide mental health and psychological support services (MHPSS) to refugees and displaced persons over the medium term. One of the charitable organizations we have collaborated with is Terre des hommes. You can read more about the various projects they support on their website.
Facilitating and contributing to fundraising events organized by Zurich employees and teams around the world.
Providing support to refugees fleeing Ukraine who were hosted by hundreds of Zurich employees and/or their immediate families.
The launch of the Global Coalition for Youth Mental Health. Together with UNICEF, we started this initiative to address the lack of funding and action for youth mental wellbeing. The Coalition launched its first programs to support the mental health and well-being of refugee youth who have fled the war in Ukraine, with interventions starting in Poland and Italy in Q4 that will continue to be delivered throughout 2024.
Educational support for teenagers displaced by war. We supported ASPIRE* Education Hubs in Poland together with local Zurich teams so that Ukrainian teenagers who are now based in Krakow have a safe space to pursue their education.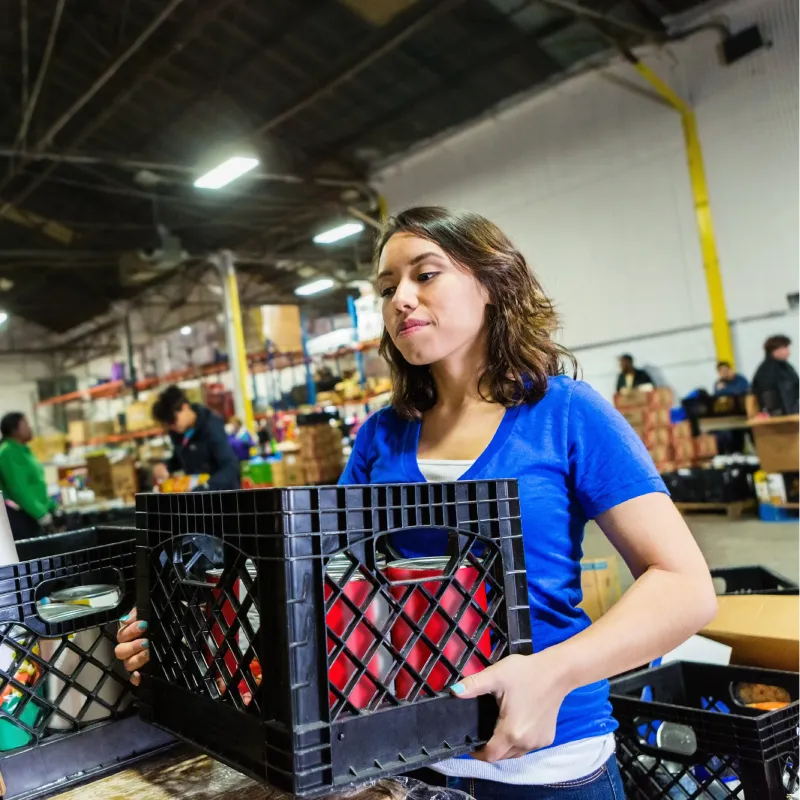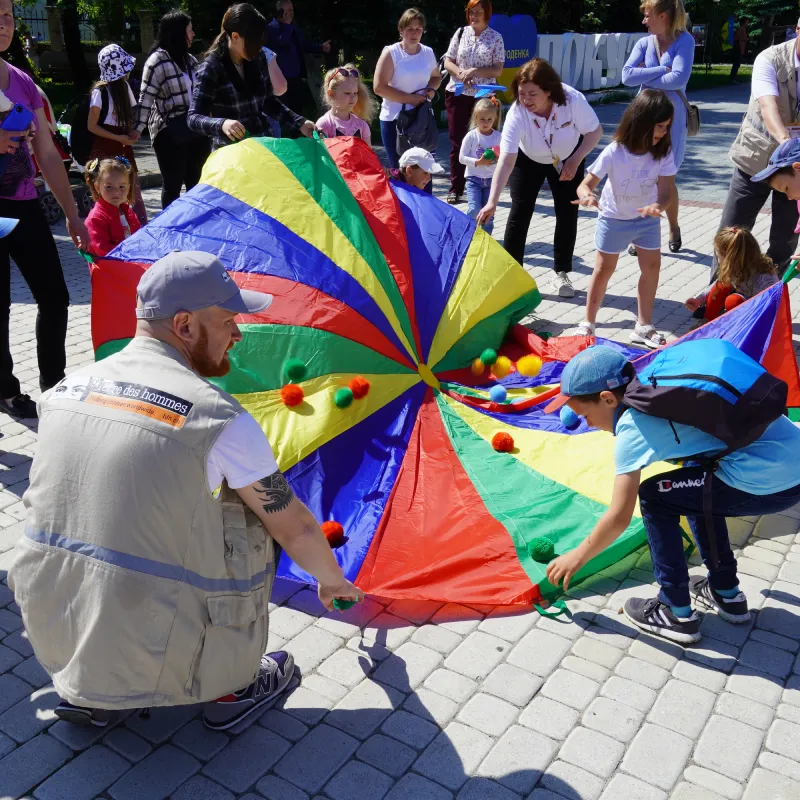 Helping ensure vaccine equity
In 2021, we collaborated with UNICEF to help deliver COVID-19 vaccines to 1.7m people worldwide. In 2022, new challenges arose, but the virus maintained its grip, particularly in 34 countries, where vaccination rates were below 15%.
To further contribute to the ongoing race against COVID-19, we made another donation to UNICEF. The donation enabled approximately 450,000 people to receive two doses of COVID-19 vaccines and supported UNICEF's efforts to ensure equitable access to vaccination. Discover how UNICEF helped to deliver vaccines globally through the COVAX Facility here.
Assisting vulnerable people affected by natural hazards'
Throughout the year, the Z Zurich Foundation made several donations to local charities to support relief efforts following significant natural hazards in the Pacific, Brazil, Mexico, Afghanistan, New Zealand, Pakistan, US, and Cuba. We were able to impact over 30,000 people. In addition to one-off grants, the Foundation matched donations made via its fundraising campaigns or its volunteering and fundraising portal MyImpact.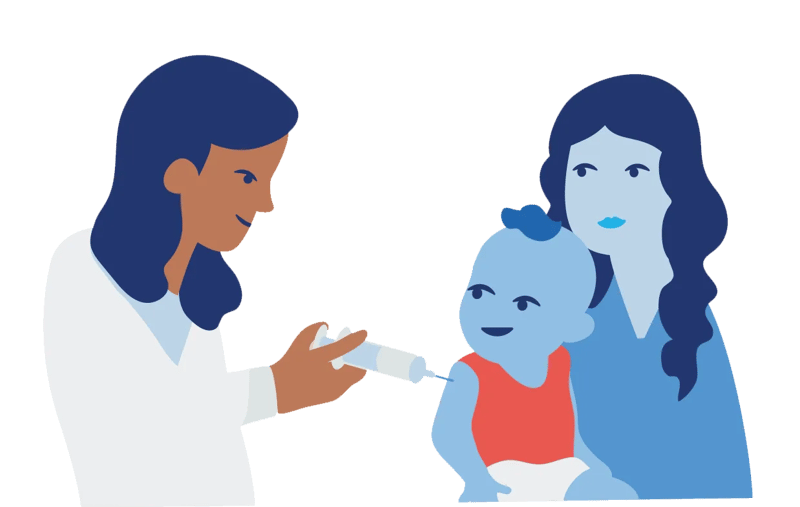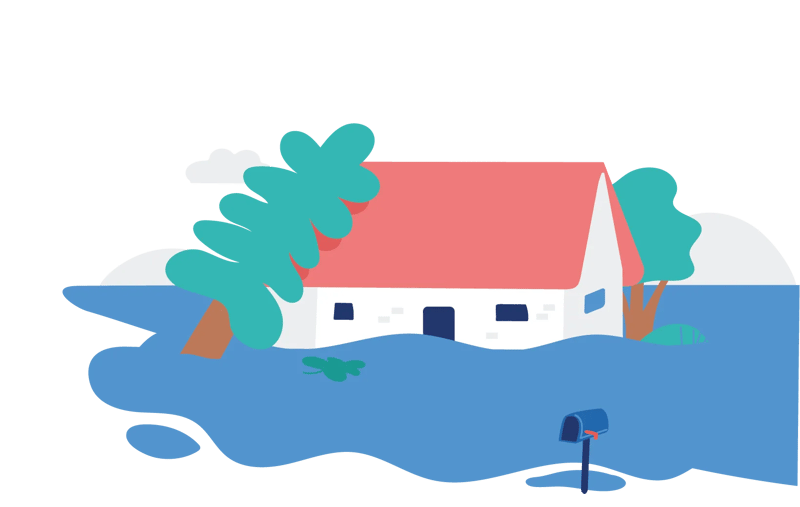 We have witnessed increased engagement​from Zurich employees, with volunteering back​to pre-pandemic levels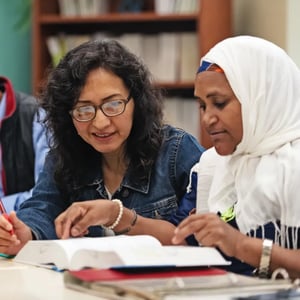 In 2022, Zurich employees recorded an impressive 142,000 volunteering hours!
One of the key Foundation-led volunteering activities this year was the regional Social Hackathons in Asia Pacific, North America, and Europe Middle East and Africa. This followed a successful pilot in Latin America in 2021.
The Social Hackathons connected Zurich employee volunteers and charitable organizations supported by the Z Zurich Foundation, so together they could co-design solutions based on some of the charities' needs. Across the globe, 161 volunteers gave over 4,000 hours and skills, expertise, and experience.
We multiply the value of what we give to charitable organizations when we supplement our financial donations with time, skills and expertise from Zurich's 60,000 employees. Last year, getting back to pre-pandemic levels of volunteering means we are once again providing huge amounts of additional value to organizations and vulnerable people in need. It makes me so proud to be a part of our global movement of community activists.
Zoom to our APAC Social Hackathon
This initiative saw 49 Zurich volunteers across Asia Pacific come together to work on practical and strategic solutions for specific challenges faced by four NGO partners, based in Australia, Indonesia, Japan, and New Zealand. Watch the video below to get insights from this event and the key impacts of the solutions created.
25 Community Hero Awards presented
As part of its annual summit, the Z Zurich Foundation hosted its 6th Community Hero Awards ceremony. Nearly 500 employees from around the world joined the Foundation's Board Members and Management team to discover and celebrate the 2022 winners and finalists.
This event was also an opportunity to recognize the valuable contributions from Zurich and Zurich employees to the Foundation-led Ukraine response. On behalf of everyone involved, the
Z Zurich Foundation made a donation to the ShelterBox Trust to support vulnerable people bracing for a long, harsh winter. Read more here.
I really wanted to stretch myself in terms of my development and skills and how I applied these to what's traditionally a non-insurance type problem.